*We are regularly updating the list with Dubai's best brunches
Brunch is a Dubai institution that will never go out of style. For those who are always wondering where to go during Friday afternoon, we have put together a comprehensive brunch guide that will apply to anyone in Dubai.
Whether you're a foodie, party animal or the parents are in town, here is your guide on some of the best (and most appropriate) brunches in Dubai.
The list is divided up into 8 categories:
Foodie Brunches
Party Brunches
Parent Friendly Brunches
Evening Brunches
Outdoor Brunches
Family Friendly Brunches
Quirky Casual Brunches
Brunch and Swim packages
Sophisticated foodie brunches:
---
The Hakkasan Hakka Brunch
Hakkasan is adding some heat to the city's weekend dining scene with the launch of Brunch at Hakkasan. Reworking their acclaimed 'Hakka Brunch', the award-winning restaurant is bringing a new meaning to Friday feasting. The Brunch at Hakkasan aims to up the weekend ante, starting with contemporary Cantonese cuisine using amazing ingredients and dishes, such as the Peking duck surrounded in apple wood smoke, followed by a parade of dim sum and small eats, from Wagyu beef and mushroom puff to crispy tiger prawn with pandan leaf. Main courses include stir-fry black pepper rib eye beef or steamed grouper in yellow bean sauce and desserts will change depending on the chef's selection.
Location Jumeirah Emirates Towers Boulevard Cost Dh199 per person including a selection of teas, Dh299 per person including soft drinks, Dh420 per person including house beverages, Dh638 per person including bubbly Timings Every Friday from 12pm to 4pm Contact 04 3848484
---
The Brasserie 2.0 Brunch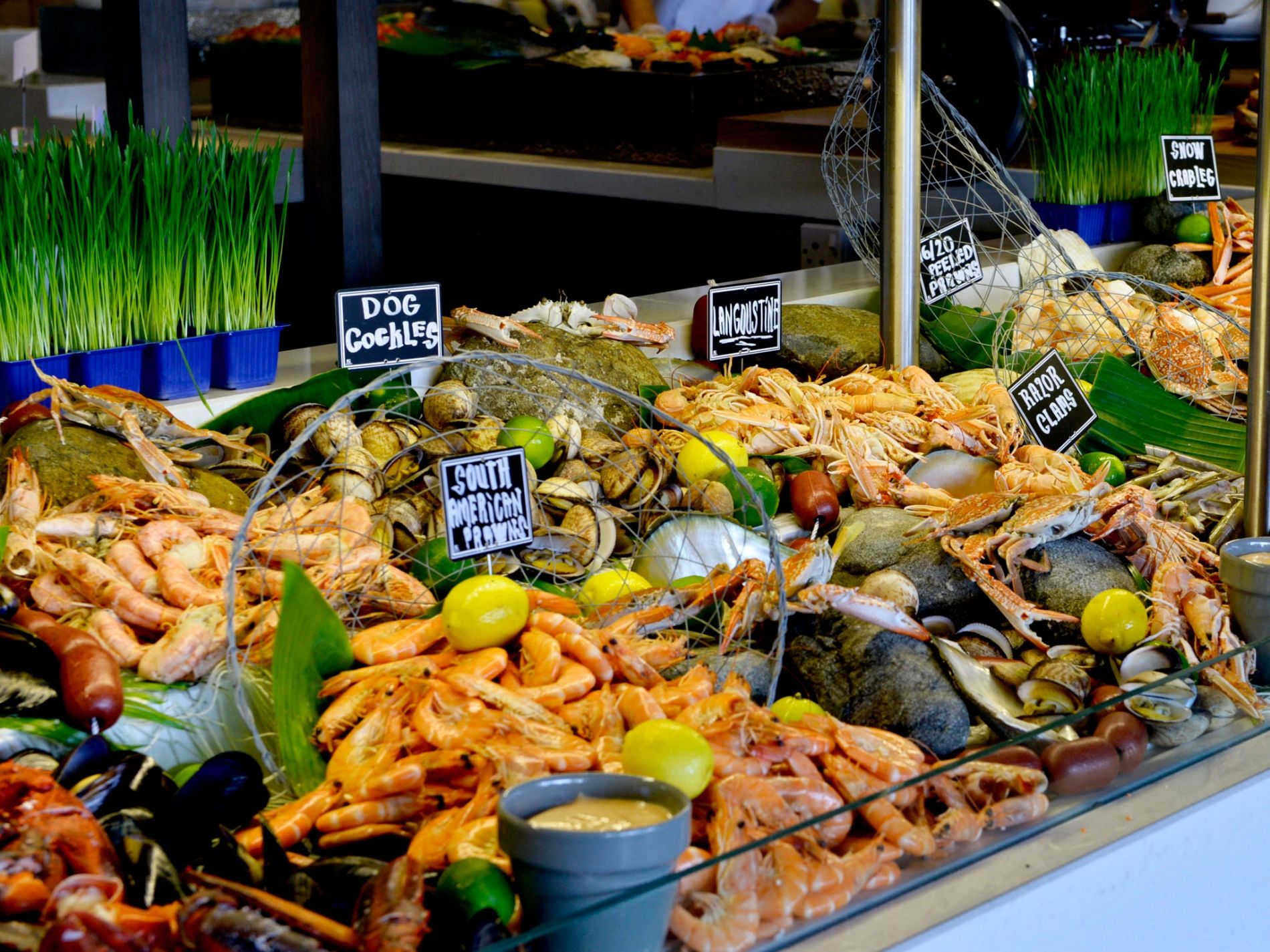 One of the best Brunches in the city. Delight your senses with an extravagant selection of dishes from the far corners of the world. Brasserie 2.0 has on offer an array of fresh seafood delicacies, as well as their very own pizza oven – all this while the chefs fire up the outdoor grill for a succulent flame grilled selection from the land and ocean. With views of the Arabian Sea, a stunning garden terrace area, over 10 live cooking stations packed to the rafters with dishes that will blow your mind, a live band, a refreshing juice and smoothie bar.
Location Le Royal Meridien Beach Resort and Spa JBR Cost Dh400 including soft beverages, Dh525 including house beverages and sparkling, Dh725 including bubbly Timings Every Friday from 1.30pm to 4.30pm Contact 04 3165550
---
The Gaucho Buena Onda Brunch
Something that Gaucho Dubai really knows how to do well is put on a delicious brunch with fun vibes and a cool ambience. Another thing Gaucho knows is how to keep things fresh and exiting with its food offering. The Gaucho Brunch is your chance tuck in to an eclectic selection of well-crafted dishes such Ecuadorian Ceviche with Shrimps, roasted tomato and red pepper sauce, onions and coriander and of course, Gauchos signature selection of mains with 300g each of tender Ancho and Chorizo or a delectable sea bream risotto and a spatchcock chicken all paired with a choice of Romaine salad, chips, broccoli and cauliflower salad for the table to share. To end your meal, try the dulche de leche cheesecake, mango mess and fluffy chocolate brownies served to share.
Location Gaucho Dubai, DIFC Cost Dh320 including soft drinks and mocktails; Dh395 including selected house beverages, Dh495 including sparkling grape and selected house beverages, Dh595 per person including premium bubbles Timings Every Friday from 12pm to 3.30pm Contact 04 4227898
---
Palazzo Versace's Enigma Turkish Brunch
Enigma, the highly talked about fine dining restaurant at Palazzo Versace Dubai proudly introduces a sensational new Turkish A la Carte brunch. Head Chef Yunus' celebrated Turkish cuisine with a European twist comes alive in this special brunch that is brought straight to the table. Begin with a fresh selection of appetisers on the table – gluten-free Lobster Salad and Chargrilled Capsicum Salad, Homemade Wagyu Pastrami and Mezze selection. Next choose from appetizers such as Pan Seared Sucuk with tomato cream, crispy bread and sumac and A la Plancha Squids with capsicum green pepper, tomato, onion and fresh mint. For main course, diners are invited to choose from one of five dishes that include 7 Spices Lamb Neck – a lamb delicacy that is cooked for 36 hours and served with Incir (Turkish figs) and fondant potatoes. There's also the gluten-free Short Beef Ribs, Seabass Saslik, Pan Seared Chicken Breast and Shrimps Casserole. No meal is complete without dessert, and Enigma sticks to tradition with a twist with Kazandibi (caramelised milk pudding), Sekerpare (semolina cookies in syrup) and Pistachio Baklava. Don't miss out!
Location Enigma, West Wing, Palazzo Versace Dubai Cost Dh350 including soft beverages, Dh550 including house beverages Timings Every Friday from 12.30pm to 4pm Contact 04 556 8820
---
The Four Season's Jean-Georges Brunch

The brunch at Jean Georges is the perfect spot to bring a first time bruncher visiting Dubai. It's a brunch that has everything you could possibly want. High quality innovative food, amazing music that you can easily talk over (unlike many other places in this city with no understanding of volume control), and an ambiance that feels super luxurious but also very welcoming. Enjoy a fab set menu which includes a selection of appetizers, one main course and a platter of tasty signature desserts.
Location Four Season Jumeirah Beach Cost Dh325 including soft beverages, Dh435 including selected house beverages, Dh545 including bubbly and sparkling Timings Every Friday from 12.30pm to 4pm Contact 04 3436118
---
The Waldorf Astoria Secret Garden Brunch
The Waldorf Astoria Brunch is where the food is the star of the show. Waldorf Astoria Dubai Palm Jumeirah have launched the Unforgettable Secret Garden Brunch. The brunch concept means you will be dining in a beautiful secret garden, enjoy seasonal ingredients with live entertainment in a relaxed atmosphere. This brunch will feature a specially curated menu in an indoor garden setting. Some of the herbs, vegetables and flowers featured in the brunch will be coming straight from the hotel grounds. This brunch is great for sophisticated foodies and families. A place that will definitely impress your visitors.
Location Waldorf Astoria Palm Jumeirah Dubai Cost Dh345 including soft beverages, Dh425 for the house beverage package, Dh600 for the sparkling grape package and Dh725 for the French bubbly package Timings Every Friday from1pm to 4pm Contact 04 8182222
---
The Ruya Anatolian Brunch
Ruya Dubai is a stylish restaurant and bar serving Anatolian cuisine. The Friday brunch offers guests a culinary journey through the entire menu with classic Anatolian cuisine, combined with perfectly prepared beverages and live music for the whole family to enjoy.
Upon arrival, you'll indulge in an interactive menu that's made up of multiple live food stations showcasing cold starters and desserts whilst hot appetizers will be served directly to the table. Firm favorites include the signature Two Cheese Pide, Lahmacun and Çag Kebap from the central oven, cheeses, delectable desserts as well as a delicious main dish from the a la carte menu such as Rangers Valley Rib Eye, Keskek, Lamb Cutlets or Whole Grilled Seabream. .
Location Grosvenor House, Dubai Marina Cost Dh295 including soft beverages, Dh495 including house beverage, Dh595 inclusive of French bubbly Timings Every Fridays from 12pm to 4pm Contact 04 3999123
---
The Zuma Brunch
Zuma Dubai definitely offers one of the best brunches in town, we are firm believers that Zuma is a brunch for foodies. A beautifully curated menu made up of the finest Japanese ingredients. When you head to Zuma for brunch you can enjoy unlimited amount of cold starters, hot starters, salads, sushi and sashimi. You then get to choose one main course, which includes a variety of all of the Zuma signature dishes like our favourite, the black cod. Then unlimited desserts. Zuma is definitely on our foodie brunch hit list.
Location Gate Village, DIFC Cost Dh450 including soft beverages, Dh595 including sparkling beverages, 655 including bubbly Timings Every Friday 12.30pm to 4pm Contact 04 4255660
---
The Morah Brunch with Her Brunch
Savour the vibrant atmosphere and stunning 360 degree views of Dubai from the 71st and 72nd floor of the JW Marriott Marquis and experience a brunch like no other. Enjoy limitless mezze from the mezze bar and never-ending platters delivered direct to your table, as well as exotic beverages and entertainment to excite and delight! Morah's exquisite Mediterranean cuisine will raise your brunch expectations to new heights! Every single item on the menu was enjoyable and make sure you leave space for dessert, because it is absolutley not to be missed.
Location Morah, Tower B, 71st – 72nd floor, JW Marriott Marquis, Business Bay, Dubai Cost Dh250 including soft beverages, Dh350 including house beverages, Dh450 including bubbly Timings Every Friday from 12pm to 4pm Contact 04 5601799
---
The 068 Bond Brunch at Prime68
This sophisticated foodie brunch will be served to the table and will satisfy even the most discerning palate. The set menu includes foie gras degustation, along with Josper-grilled Australian beef tenderloin with butter and thyme, whole Australian rib eye with garlic and herbs and US Prime braised short ribs. Bond's signature shajken and not stirred beverage will be made table-side. After brunch, you'll be invited to the Vault for the Golden Eye afterparty to literally experience the high life at the very pinnacle of the world's tallest hotel.
Location JW Marriot Marquis, Prime 68 Cost Dh495 per person including house beverages, Dh595 per person including sparkling beverages, Dh695 per person including bubbly Timings 04 4143000
---
The Le Meridien Dubai Yalumba Brunch
Yalumba features a rustic, Australian country feel and the food is modern eclectic cuisine with a unique blend of flavours from the East and West. This award-winning brunch, has a spectacular display of delicious fare that will keep you going to the buffet. This place is perfect for the serious foodie. The Friday Bubbly Brunch lets you indulge in the most delicious dishes with unlimited fine bubbles and a great atmosphere.
Location Le Meridien Dubai Hotel and Conference Centre Cost Dh499 including house beverages Timings Every Friday from 12.30pm to 3.30pm Contact 04 7022455
---
Aji's Inti Raymi Brunch
Invoke the energy of the Incas (or at least feast like them), at Aji's Inti Raymi Friday brunch. Taking place every Friday, the menu pays homage to the ancient Peruvian 'Festival of the Sun'. Including 'piqueos' such as Gyoza and Tori Anticuchos, unlimited sushi, cebiches and tiraditos, a main course such as Gyukai Rice or Ribeye and 'sobremesa' (dessert platter) this is a culinary celebration worthy of the gods.
Location Aji, Club Vista Mare, Palm Jumeirah Cost Dh275 including soft beverages, Dh440 including house beverages, Dh660 including bubbly Timings Every Friday from 12pm to 4pm Contact 04 5520244
---
The Ruth Chris Meat Lover's Brunch
The American institution is hosting the ultimate Ruth's Chris Steak House experience where you can savour the mouth-watering pick of favorites from the a la carte menu that the Steak House is known for. The menu boasts a selection of their most popular USDA prime cuts such as tender Filets, NY Strips, Braised Short Ribs and Lamb Chops cooked to taste. Other classic dishes are the Carpaccio, Ahi Tuna and Calamari.
Expect a lively atmosphere with the addition of The Roaming Band, an upbeat three-piece live band, that literally roam around the restaurant playing a selection of current popular music, Latino classics and Bossa Nova rhythms that perfectly compliment the old American charm of Ruth's Chris. The party continues with a happy hour from 4pm onwards.
Location Address Dubai Marina Cost Dh300 including soft beverages, Dh460 including house beverages, Dh495 including premium bubbly Timings Every Friday from 12.30 to 4 PM Contact 04 4549538
---
The St Regis Versailles Brunch
This brunch is called the Versailles Decadence Brunch and decadence is the keyword here. Everyone knows that the Versailles palace was a site for unparalleled luxury and splendour. Brasserie Quartier, the restaurant at the St. Regis will recreate Versailles for you. You will be served decadent French cuisine, as well as have the option of getting extra food from the buffet stations
Location Al Habtoor City, Sheikh Zayed Road, Dubai, Cost Dhs350 with soft drinks, Dhs450 with house drinks, Dhs650 with bubbly Timings Every Friday 12.30pm to 3.30pm Contact 04 4355577
---
The Rosso and Benihana Friday
Brunch
Trying to decide what type of cuisine you're in the mood for is often the hardest part when choosing a brunch. This is where the brunch at Amwaj Rotana comes in. It combines Rossos and Benihana's. The laid back, Mediterranean vibe of Rosso is the perfect place to pick your way through a host of Italian treats. While Benihanna's makes the freshest Asian food, including a sushi buffet and yummy Teppenyaki. Rosso keeps things simple. Benihanna's has a host of delicious flavours and Horizon will give you the international dishes that you just crave at brunch. There is also a separate family area where the little ones can watch cartoons, dance to the DJ and help themselves to a special kids buffet complete with popcorn.
Location Amwaj Rotana, JBR Cost Dh199 including soft drinks, Dh299 including house beverages, Dh419 including house beverages and unlimited bubbly, 50 per cent off for children aged between six and twelve, kids below 6 eat for free Timings Every Friday from 12.30pm to 4.30pm Contact 04 4282000
---
The Delphine Hollywood Brunch
It's understated and doesn't feel like a cross between a Boxing Day sale and an eating marathon. After all, this is a franchise of the same West Hollywood dining hotspot frequented by A-list celebrities. They can't afford to keep it anything but classy.
Its brunch offering is a healthy balance of an elegantly laid out buffet that features salads; cold cuts; a delectable seafood selection; and the almost mandatory cheese table, as well as an a la carte selection for mains. How does this work? You begin with the buffet and order your mains with your butler and they will bring it to you at your table freshly prepared and presented beautifully. The dessert section is part of the serve-yourself set-up.
Location The H Hotel, Sheikh Zayed Road, Dubai Metro World Trade Center Station Cost Dh265 including soft drinks; Dh425 House Beverage Timings Every Friday from12.30pm to 4.30pm Contact 04 5018623
---
The Toro Toro Hola Hola Brunch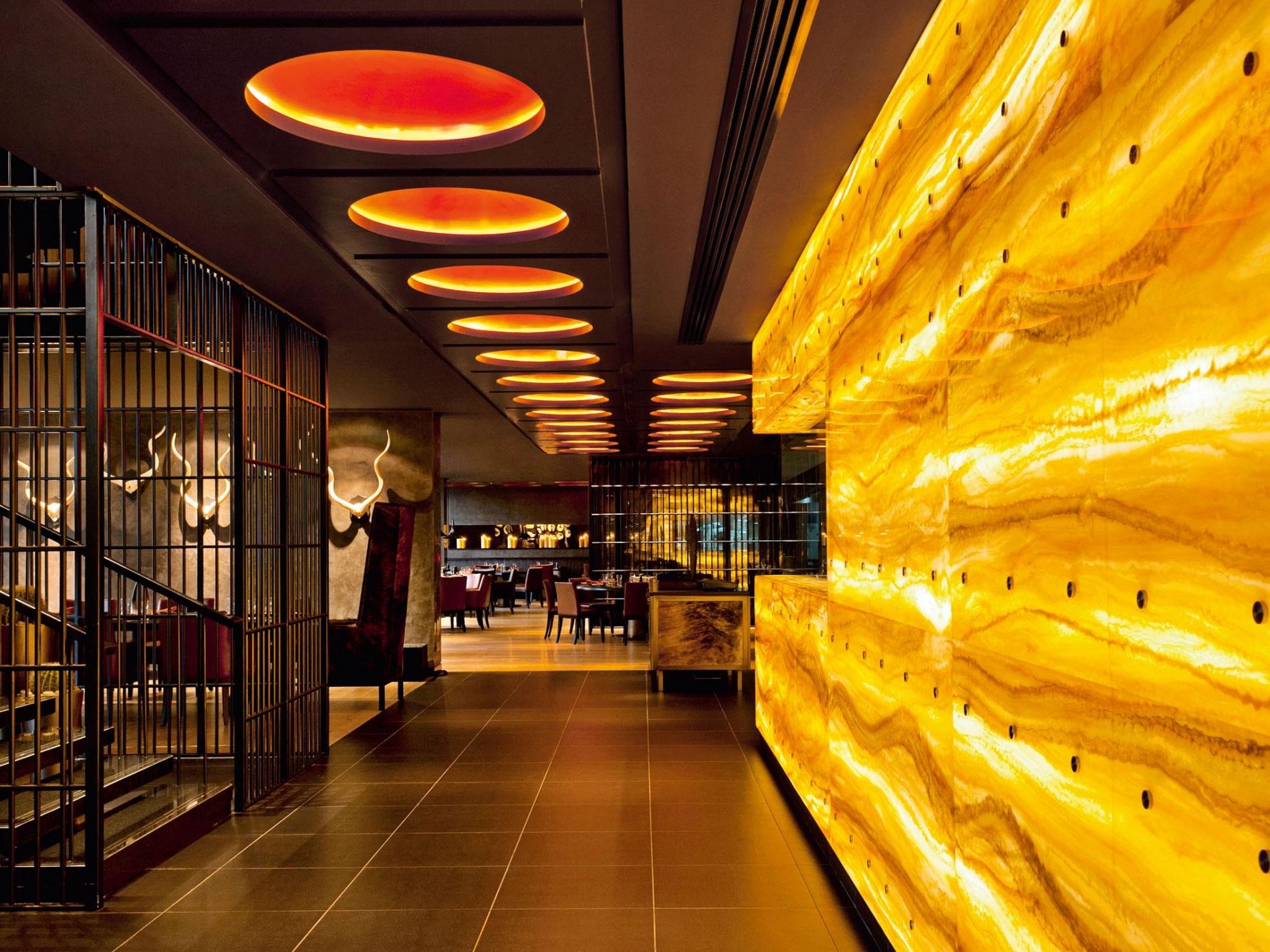 At Toro Toro you will enjoy one of the most lively and indulgent dining brunches in town and works on the fabulous sharing concept that many restaurants in Dubai now offer. At the Hola Hola brunch you get a selection of Latin American favourites including guacamole, a variety of ceviche dishes, delicious salads and Toro Toro's famous churrasco grill with premium cuts of lamb and beef and chicken.
Location Grosvenor House, Dubai Marina Cost Dh350 with soft drinks, Dh490 including selected house beverages Timings Every Friday 12.30pm to 4.00pm Contact 04 3176000
---
The W Feed Me Friday Brunch
Everyone is raving about the latest brunch at the W hotel. Level 7 offers seven different types of Mediterranean cuisine, as well as an entire room dedicated to dessert! A legendary, rustic market style offering from all over the Mediterranean - Spain, Italy and Greece just to name a few. In this bustling social hotspot, gorgeously adorned with wood, steel and vintage art amid earthy tones that invites to share stories and an abundance of tasteful tapas presentations, freshly prepared servings from the crudo bar, rice and grain dishes, and meat bites from the rotisserie.
Location The W Hotel, Al Habtoor City Cost Dh395 inclusive of soft drinks, Dh495 inclusive of specialty cocktails, grape, hops and selected house beverages Dh595 inclusive of free flowing bubbly, specialty cocktails, grape, hops and selected house beverages Timings 12.30pm to 4:00pm every Friday Contact 04 4366677
---
The Marina Social Share and Social Brunch
Marina Social is one of our favourite restaurants in Dubai. The food is simple, unfussy and truly fantastic. The staff are friendly, helpful and totally aware of what they are doing. A three course meal in a restaurant owned and run by Michelin starred Chef Jason Atherton. The atmosphere is relaxed and fun and it's just a different brunch experience. The sourdough pizzas are definitely worth ordering.
Location Intercontinental Dubai Marina Cost Dh275 for Soft Social (inclusive of soft beverages, Dh395 for House Social (inclusive of house beverages) Dh445 for Bubbly Social (inclusive of house beverages and bubbles) Timings 12.30pm to 3.30pm every Friday Contact 04 4466664
---
The Towers Rotana La Terraza Brunch
Dive into the weekend with a seafood extravaganza Friday brunch to savour flavours from the ocean prepared the Italian way by Executive Chef Pasquale Sipone. Sit by the pool to enjoy the cooler climate with live entertainment and unlimited house beverages. Try delicacies from the chilled seafood station and a tasty selection of sushi and sashimi. Move over to the grilling station to feast on lobsters, crabs, squid, jumbo prawns and delight in fresh fish cooked to order tableside, to your liking. Make sure to leave room for dessert to enjoy a variety of decadent sweet treats as a perfect ending to a relaxing brunch poolside brunch.
Locating Pool terrace, level six of Towers Rotana Annex, Towers Rotana, Sheikh Zayed Road Cost Dh279 per person including house beverages, Dh315 per person including bubbly Timings Every Friday from 12.30 pm to 4.30 pm Contact 04 3438000
Party brunches:
The Waka Fiesta Latina Day Brunch
Get ready to salsa, merengue and bachata your way through Friday! Waka will be serving a variety of signature dishes from a selection of ceviche to mouthwatering makis followed by tender spare ribs and truffle quinoa risotto. The Fiesta Latina Brunch features the best from the dynamic region's cuisine coupled with lively Latin American music and Brazilian Carnival dancers.
Location The Oberoi, Business Bay Cost Dh250 including soft beverages, Dh350 including house beverages, Dh500 including bubbly Timings Every Friday, from 12.30pm to 4pm Contact 04 4441455
---
The Casa de Tapas Brunch
Friday is Brunch day in the UAE, and no one does it with more Latino spirit and flair than Casa De Tapas. Located at Dubai Creek Golf & Yacht Club, the Spanish Tapas Brunch serves up an unmatched variety of tapas, Paella, Spanish classics and sangria every Friday. Known for its party vibes the brunch has a loyal following in both the Spanish and wider expat community.
The party doesn't end after the brunch, with the venue playing upbeat Spanish music throughout the evening, keeping the mood high and encouraging partygoers to make the venue their spot not only for brunch but for the rest of the evening as well.
Location Casa De Tapas Dubai Creek Golf & Yacht Club Cost Dh199 including food and soft drinks, 249 including food and house beverages, Dh299 including food and sparkling house beverages Timings Every Friday from 12.30pm to 4pm Contact 04 416800
---
The Warehouse Beehive Brunch
The brunch at Warehouse is a Dubai institution that everyone has to experience at least once. The value for money is great and the atmosphere is so lively and youthful, you can seriously bet on a good time. The Warehouse Beehive brunch offers great food, and bottomless colourful and creative beverages. Come as you are and join us for a beelicious brunch! There's also an entire room dedicated to desserts! Make sure to head upstairs after you've eaten for a chance to dance for hours on end. This brunch is a definite party hot spot.
Location Le Méridien Dubai Hotel & Conference Centre Cost Dh259 per person including house beverages Timings Every Friday from 1pm to 4pm Contact 04 7022455
---
The Okku Sushi Disco Brunch
Come in your coolest disco gear and you'll be transported back to the 80's whilst dining on an exceptional a la carte menu of award winning dishes and desserts. The 16-course brunch offering is to die for and features classics such as the HuShiHu Yuan crispy duck Salad and the Spicy California Maki along with star chef creations, 'O' Style Avocado Volcano and Wasabi Tiger Shrimp. Alongside the stunning selection of food, OKKU gets playful with its unique and cutting-edge selection of beverages and amazing music.
Location H Hotel, First floor Sheikh Zayed Road Cost Dh450 per person including sparkling grape, Dh550 per person including bubbles Timing Every Friday from 12pm to 3pm with an after party at 3 pm Contact 04 5018777
---
The China Grill Brunch
The Toy Brunch at China Grill is known in the city as a fun and exciting party! It is the Friday Brunch that brings together decadence and fun in the ultimate party atmosphere. The food is Asian-inspired world cuisine and it is so good you will keep on wanting more. The Toy brunch is basically an indulgent adult playground.
Location The Westin Mina Seyahi Beach Resort & Marina CostDh450 per person for house beverages, Dh550 per person for bubbly & house beverages Timings Every Friday from 1.30pm to 4.30pm Contact 04 511 7333
---
The Le Meridien Dubai 'Wow that's what I call Brunch'
If you love a good old tune, you will definitely smile nostalgically at WOW That's What I Call Brunch! The first in a series of retro-themed super-brunches with some very special guests that will keep you coming back for more and take you on a trip down musical memory lane. Yalumba's usual amazing fare, just moved to the Meridien Ballroom.
The WOW Brunch! The retro themed brunch-party will host Eurodance favourites, Culture Beat, who are best known for their 1993 hit, 'Mr Vain. Taking on the pop reigns, girl band Atomic Kitten, featuring Natasha Hamilton, Kerry Katona and Liz McClaron, will be making their UAE debut, covering all the favourite hits, from Right Now to Tide Is High and many more to ensure the party roof is raised off, of the great ballroom!
Location Dubai Airport Road Cost Dh569 per person with unlimited house beverages and bottomless vintage bubbles Timings 1pm to 4pm every Friday Contact 04 295 6000
---
The Sass Cafe Monaco Brunch
This opulent affair is a complete Monaco brunching experience. The food, the atmosphere and the music are modelled exactly after its sister property in Monte Carlo. The Sass Brunch at will be offering a dining experience that is the essence of the luscious Mediterranean cuisine. After brunch, the lights are dimmed and this fabulous venue becomes a party where everyone gets up to dance.
Location Al Fattan Currency House, Tower 2, Podium Level, DIFC Cost Dh290 per person including soft drinks, Dh440 per person including house beverages, Dh690 per person including bubbles Timing Every Saturday from 1pm to 6pm Contact 04 3527722
---
The Eloquent Elephant Friday Craft Brunch
Playing at Eloquent Elephant each Friday, 2-6pm, radio personality and DJ Dave Cleary will be will playing his top tunes to groups of friends looking for that party Friday fun. Dave Clearly is a local favourite in the city, currently presenting on Radio 2, and being voted Dubai's Number 1 radio DJ in 2016 and also in 2014 in the People's Choice Awards. Dave will bring a new level of tunes and banter to the eloquent brunch most known for its hearty food and fun ambiance.
Location Taj Dubai, Business Bay Cost Dh295 including soft drinks, Dh395 including house beverages, Dh495 including sparkling grape and hops. Timings Every Friday from12.30pm to 4.00pm Contact 04 4383131
---
The Westin's Bubbalicious Brunch
The world famous Bubbalicious brunch is the perfect way to kick off the weekend. Arguably one of Dubai's most popular brunches, you can enjoy an extensive menu, flowing grape or bubbly and of course our amazing entertainment. Relaunching following the summer this Friday 15th October, expect a new layout with added outdoor food stations, an indoor garden installation but with the always-exceptional international cuisine spread over numerous outlets.
Location The Westin Mina Seyahi Beach Resort & Marina Cost Dh450 per person for the Bubbalicious spread with soft drinks, Dh550 per person for the Bubbalicious spread with free flow Sparkling, Dh680 per person Bubbalicious spread with free flow Bubbly, kids aged 6-12 at AED225, kids under 6 eat for free Timings Every Friday from 1pm to 4pm Contact 04 5117139
---
Parent-friendly brunches:
The Atlantis's Ronda Locatelli Brunch
This lovely Italian restaurant at the Atlantis is one of the best places to take the parents. The focus is very much on food and on sharing dishes with one another. Paying homage to the family mealtime, Ronda Locatelli's Saturday Brunch All'Italiana delivers on the tastes of Italy in a warm and inviting environment. Brunch All'Italiana takes the form of four delicious sharing courses served to the centre of the table, bringing to life the family style "convivial" theme of the restaurant. Beginning with a selection of shared starters, families can enjoy popular dishes including Calamari, Bresaola, traditional Burrata and selections of Pizzettes, followed by Italian staples including handmade ravioli and lasagna, a second course of meats including Braised Beef Chargrilled Chicken and Lamb and a fresh fillet of Sea Bream. Saving the best for last, desserts include classic Italian favourites such as Pannacotta, Cannoli Siciliani, Semifreddo Alla Nocciola and the ever famous Tiramisu. This is where mom and dad will have the best time.
Location Atlantis the Palm Cost Dh195 per person for soft drinks only and Dh295 per person for soft drinks and beverages Timings Every Saturday from 12.30pm to 3.30pm Contact 04 4262626
---
The Hilton's BiCE Ristorante Brunch
Savour an authentic Italian brunch, while soaking up the vibrant atmosphere. We enjoyed a delicious a la carte brunch offering, including mouthwatering shared starters, pasta and mains with live cooking stations and a dedicated dessert station. Be it a family affair or a catch up with friends, this brunch is definitely a favourite of ours. It truly impressed with the best in Italian flavours. After brunch, make sure to head to the beautiful outdoor terrace for some sundowners with friends. We loved everything about this brunch.
Location Hilton Dubai Jumeirah Beach Cost starting at Dh295 per person including soft drinks, Dh395 including house beverages, Dh430 including bubbly Children (aged 6 to 12 years old) will be charged at Dh135 Timing Every Friday from 12.30pm to 4pm Contact 04 3991111
---
The Pierchic Chic Brunch
The Chic Brunch at Pierchic is a very elegant affair. It's the perfect place if you really want to treat your mum and dad. The Pierchic brunch offers an exquisite four-course set menu and fresh seafood and shellfish to share, paired with select bubbly packages and picturesque views of the Arabian Gulf for an unforgettable destination dining experience. Pierchic is a perfect tourist destination, since it truly highlights many of the beauties of Dubai including the pristine blue gulf, the Burj Al Arab and the Palm Jumeirah.
Location Al Qasr Hotel, Um Suqeim Cost Brunch starting from Dh395 per person Timings Every Friday from 12.30pm to 4pm Contact 04 4323232
---
The Agency Afternoon Unwined Brunch
Dubai's classic grape bar launches the Unwined Brunch, perfect for sophisticated afternoon sundowners. This is the place you want to go to for the ultimate Saturday afternoon. With picturesque views of the tranquil Madinat waterways and iconic Burj Al Arab, and the warm, sprawling terrace perfect for the afternoon rays or evening sunset. Their resident Sommeliers will choose the best grapes for you, from all over the world's vineyards, as well house beverages, and soft drinks accompanied by unlimited bites from the all-new tapas-style menu. Must-try specials include rich Chicken Satay in a homemade peanut sauce, Levantine Lamb Meatballs in a spicy tomato sauce, Truffle Pizza topped with brie cheese, mushroom and rocket, and Crispy Fried Squid with a green chili and citrus sauce. Sharing? Try The Agency Charcuterie Board, boasting tasty Celcina ham, goose salami, turkey ham, bresola and pickles, the Cheese Tasting Board, with a mix of five cheeses, apple chutney, grapes and biscuits, or the famed Gruyère Cheese Fondue with crudité, baby potatoes, croutons and truffle oil.
Location Madinat Jumeirah Cost Dh250 including soft drinks, Dh350 including grape and house beverages, Dh495 including bubbly Timings Saturday from 12.30pm to 3pm Contact 04 3666320
---
The Westin's El Sur Brunch
El Sur do an amazing Friday all you can eat Tapas brunch that is perfect for the parents. It's lively and fun, the food is fantastic and the service is unparalleled. We absolutely adored the offering. Treat yourself on Friday with an 'all you can eat' tapas the Spanish way. You get a selection of house beverages that include hop, grapes and soft drinks and juices. El Sur is a fine-casual Spanish gastronomical experience. Their use of fresh ingredients and dynamic recipes pushes beyond the boundaries of what you would expect to find in a traditional Spanish tapas restaurant. We love it!
Location El Sur, Lobby level Westin Hotel, Sufouh Road, Dubai Dates Fridays Cost Dh265 per person with soft drinks and juices; Dh395 per person including hops, grape and house beveragesTimings12.30pm to 3.30pm Contact 043997700
---
The Tesoro at the Taj Brunch
Tesoro at the Taj Hotel hosts a great Friday Brunch complete with live music, live food stations and unlimited a la carte dishes. The theme is to feed your soul with good food and good music. A perfect place to enjoy some time with the parents, while also trying some food that satisfies each craving. Taking favourites and indulgences from around the world, Tesoro's menu takes guests on a journey through small and sharing plates - salads and sandwiches, comforting mains, burgers and grills and of course indulgent desserts.
Location 3rd Floor, Taj Hotel Dubai, Business Bay Cost Dhs199 including soft beverages, Dh350 House Beverage Dh499 Including bubbly Timings Every Friday from 1pm to 4pm Contact 04 4383111
---
The Dubai Creek Golf & Yacht Club Legends Brunch
---

Legends restaurant at Dubai Creek Golf & Yacht Club is the place to be on Fridays with its delicious brunch offer that includes something for everyone. Legends will be putting on a culinary show with one of their chilled out and relaxed brunches. Guests can soak up the sounds of jazz whilst tucking into the endless buffet selection on offer for starter and dessert, and sitting back for the main course.
Location Baniyas Road, Port Saeed Cost Dh285 for food and soft beverages, Dh395 with selected beverages, Dh450 with sparkling beverages, Dh650 with premium sparkling beverages Timings Every Friday from 12pm to 3.30pm or from 7pm to 10.30pm Contact 04 2956000
Evening brunches:
The Sofitel Disco Tapas Brunch
Sofitel Dubai Downtown re-launches its Disco Brunch every Thursday evening at its colourful restaurant, Les Cuisines. Back, bigger and better than ever, the brunch will offer a complimentary range of delectable tapas-style bites bursting with flavour including tempura vegetables, mini pizzas and mini bruschetta's, as well as a selection of succulent cuts from the BBQ. A live pasta cooking station and a colourful salad bar will also be available for guests to tuck into. Those with a sweet tooth can indulge in heavenly sweet treats and irresistible French pastries. Dance the night away to 70s and 80s classics, which will be provided by Sofitel Dubai Downtown's resident guitarist, Danny Aridi.
Location Les Cuisines, Dubai Downtown Cost Dh119 including soft beverages, Dh190 including house beverages, Dh290 per person inclusive of premium beverages and sparkling grape Timings Every Thursday from 7pm to 11pm Contact 04 5036111
The Waka Late Night Brunch
If you don't particularly enjoy waking up early on a Friday, but hate missing out on all the Instagram worthy brunches, Waka has the answer to all your problems. The Late Brunch is a one of a kind experience featuring the best of Latin American cuisine that promises a great evening with fiery vibes. Inspired by summer flavours and created using the freshest seasonal harvests, the evening brunch offers the perfect amount of indulgence.
Location The Oberoi, Business Bay Cost Dh250 including soft beverages, Dh350 including house beverages, Dh500 including bubbly Timings Every Friday, from 8pm to 11.30pm Contact 04 4441455
---
Festa Italiana Sunday Evening Brunch
Think Positano... Think the scent of lemons, delicious fresh fish, everyone's favourite cheeses, signature pizzas - these are the flavours and aromas of Positano. Sample specialties from the coastal Italian region, overflowing with antipasti, handmade pasta cooked a la minute and all Italian classics such as panna cotta, gelati, cassata and other sweet bites.
Location JW Marriot Marquis Cost Dh180 per person, including soft beverages, Dh295 per person, including house beverages, Dh365 per person, including sparkling beverages, Children below 10 years dine complimentary Timings Every Sunday from 6pm to midnight Contact 04 4143000
---
The Black Lion's Funk Soul Late Night Brunch
If you're looking to hang out with the cool and quirky of Dubai, then The Black Lion is one that definitely fits the bill and stands out from the crowd. This brunch is themed as a Funk Soul Late Night and will have street food inspired by London's East End. The extensive brunch menu options play on the cultural melting pot of the capital city. Taking inspiration from the Big Smoke's foodie scene, you get to enjoy 'Small Bites' such as short rib Korean buns and prawn toast, through to 'Street Eats', with favourites such as the 'diner' jumbo hot dog and Brick Lane salt beef sandwich.
Location H Hotel Sheikh Zayed Road Cost Dh250 including soft drinks, Dh335 including house beverages Timings Every Friday from 6pm to 10pm Contact 04 3592366
---
The La Residence Seafood Brunch
This modern brasserie has rebranded its 'Paris by Night Lumiére Brunch' as a seafood brunch. In my opinion, 'Paris by Night' is a far better name, but perhaps resto's single minded focus on delights of the ocean merited such a stark change. No matter, the lux art-deco interior, an old-school speakeasy vibe (in no small part thanks to team of expert mixologists) and up-tempo tunes spun by an in-house DJ and/or a live performance by a pro pianist makes this one of the trendiest spots for an evening brunch.
Location Raffles Hotel, Umm Hurair Cost Dh379 inclusive of house beverages Timingss Every Friday from 8pm to 11:45pm Contact 04 3962211
---
The Cavalli Midnight Brunch
Most people may not know that Cavalli has an award-wining chef, who creates masterful Italian dishes. From the appetizers to the mains and those sumptuous Italian desserts, dining at Cavalli is a really fantastic experience. It is one of the first dinner clubs of Dubai, and is known to be quite pricey, so a great option to fully enjoy dining and dancing at Cavalli, is to try their Sunday Midnight Brunch.
At a price tag of Dh299, diners can choose as many starters and desserts from the menu as they like and then pick one main course (we recommend the lasagne) as well as unlimited beverages all night! This all-around awesome dining experience includes entertainment from cabaret style singers and dancers. Once the clock strikes 12, the brunch ends and the party gets started as the crowd fills up the dance floor.
Location Fairmont Hotel Sheikh Zayed Road Cost Dh299 including house beverages Timings Every Sunday from 9pm to 3am Contact 04 3592366
---
The Mazaher Min El Ekhir Brunch
Mazaher is a beautiful Lebanese restaurant located in the heart of Dubai's business district. The food is delicious and authentically Lebanese. For brunch you can enjoy unlimited premium Lebanese food from as well as energetic live entertainment that will keep you on your feet after you've eaten
Location Convention Tower, World Trade Centre Cost Dh199 per person including house beverages Timings Every Friday from 3pm to 7pm Contact 04 3555533
---
The Mercury Lounge Brunch
Mercury Lounge, Dubai's most idyllic and glamorous rooftop located at the Four Seasons Resort Dubai at Jumeirah Beach recently launched a brand new Thursday evening brunch. With 180 degree views over downtown Dubai twinkling on one side and the waves of the Arabian Gulf lapping on the shores on the other, Mercury's new evening brunch brings a 'blind brunch' concept to the table, with a selection of chefs specially prepared dishes. Seamlessly blending influences from across the Mediterranean Sea, the brunch offers spectacular selection of antipasti, sharing plates and light entrées with the intention of grazing through the evening with style yet without formality.
Location Four Seasons Resort Dubai at Jumeirah Beach Cost Dh295 per person including house beverages Timings Every Thursday from 8pm to 11pm Contact 042707804.